Customer Service
CUSTOMER SERVICE
Q-Roll - Danieli Slab Caster Rolls
Reliability and performances of caster rolls are two of the main key factors to increase productivity and reduce plant OpEx.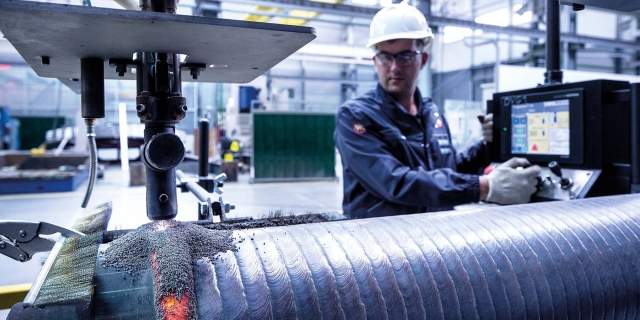 Danieli Q'ROLL slab caster rolls are the result of the long experience collected from all caster projects engineered and commissioned by Danieli worldwide, combined with the technological know-how developed in the Danieli Research Center.
Caster rolls are the primary consumable parts of the caster and their reliability, easy maintainability and performances significantly affect a caster's total economic assessment.
Q'ROLL design
Slab caster rolls are designed to be installed in every type of caster according to the different requirements along the caster curve, in terms of mechanical and thermal loads. Roll designs are based on Danieli engineering and, thanks to the technical and the research developments, these can be highly customized according specific plant requests, in terms of operational and maintenance practices.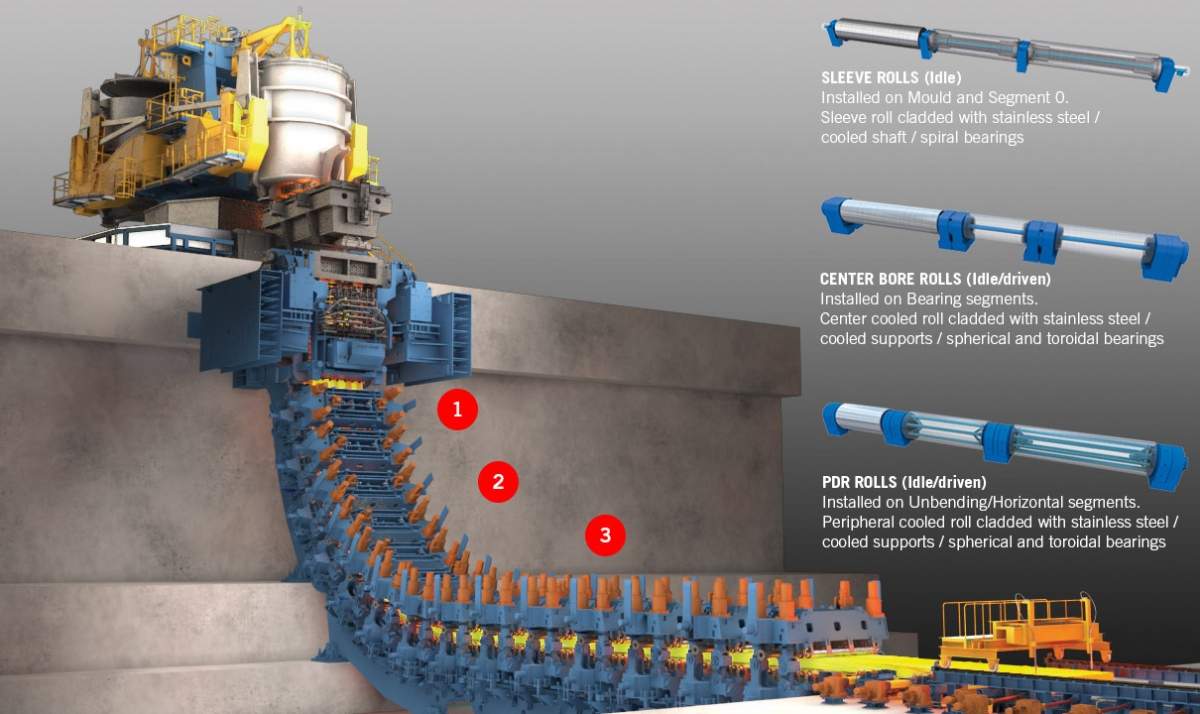 Q'ROLL manufacturing

Q'ROLL quality and reliability are guaranteed by Danieli Worldwide manufacturing workshops. Danieli guarantees the quality and reliability of its caster rolls production step by step, starting from the raw materials supplied by Danieli-selected worldwide manufacturers according Danieli's specifications; up to in-house manufacturing carried out in accordance with the Danieli Quality Control Plan QCP. High-tech CNC lathes, work centers, milling units and cladding machines, together with a careful and on-time suppling production, ensure that the customer always receives the most reliable product installed in the caster machine.

Q'ROLL cladding

Experience has shown that the performances of the microstructure of the roll surface has a significant effect on roll performance. Specifically, Danieli has experienced and proven that stainless steel clad rolls with a microstructure characterized by high levels of retained austenite and/or delta-ferrite perform poorly due to unacceptable levels of wear, corrosion-erosion, and thermal fatigue cracking. Longer roll life directly influences the number of stoppages due to segment changes.
The selection of overlay material is generally based on pit corrosion resistance, thermal fatigue-cracking resistance, wear and bruise resistance, corrosion cracking resistance and weldability. Today, martensitic stainless steel is the preferred material due to its properties, costs and good flexibility in its application. Danieli selected submerged-arc welding for the cladding process in all its worldwide workshops, based on reliability, quality and high level of process control ensured by this technology. Every cladding parameter is carefully checked by operators and guaranteed by standardized procedures.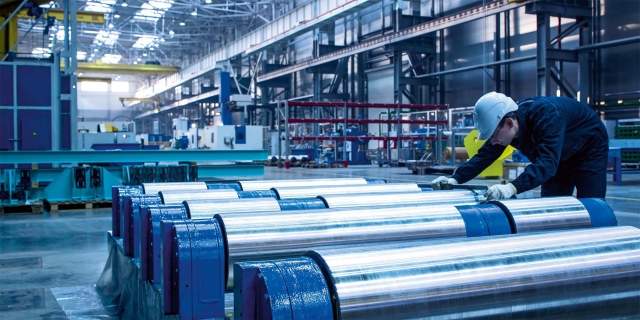 Because each caster (customer) and each part of the casting machine (from top to bottom) have a different deterioration effect on the rolls, Danieli has developed its own wire brand named Danieli UHP-WIRE (Ultra High Performance wire), with the aim to provide a selection of wire types with different alloy compositions and final hardness in order to meet customers' needs.
References:
Danieli has designed and commissioned more than 150 strands worldwide;
More than 60.000 rolls have been manufactured in Danieli worldwide workshops in the past 10 years;
In recent years, Danieli has been awarded five contracts to manage rolls/segment refurbishment in five non-Danieli caster machines. Average output (new+reconditioned) is more than 8,000 rolls/year;
With Danieli technology it is possible to reduce the number of stoppages due to roll changes by an average of 40-50%. In a plant with a production of 1 Mtpy this means an economical benefit of average 0.5 M€/year.