News & events
In this section you will find all the latest news of the Danieli Group. Selecting the categories below, you can see News, Records, Start-ups, New Orders.
44 / 682
new orders
2023, 26th April
BF technology transition at LIBERTY Steel in Whyalla
Danieli Digimelter adopted to reduce CO2 emissions and increase production capacity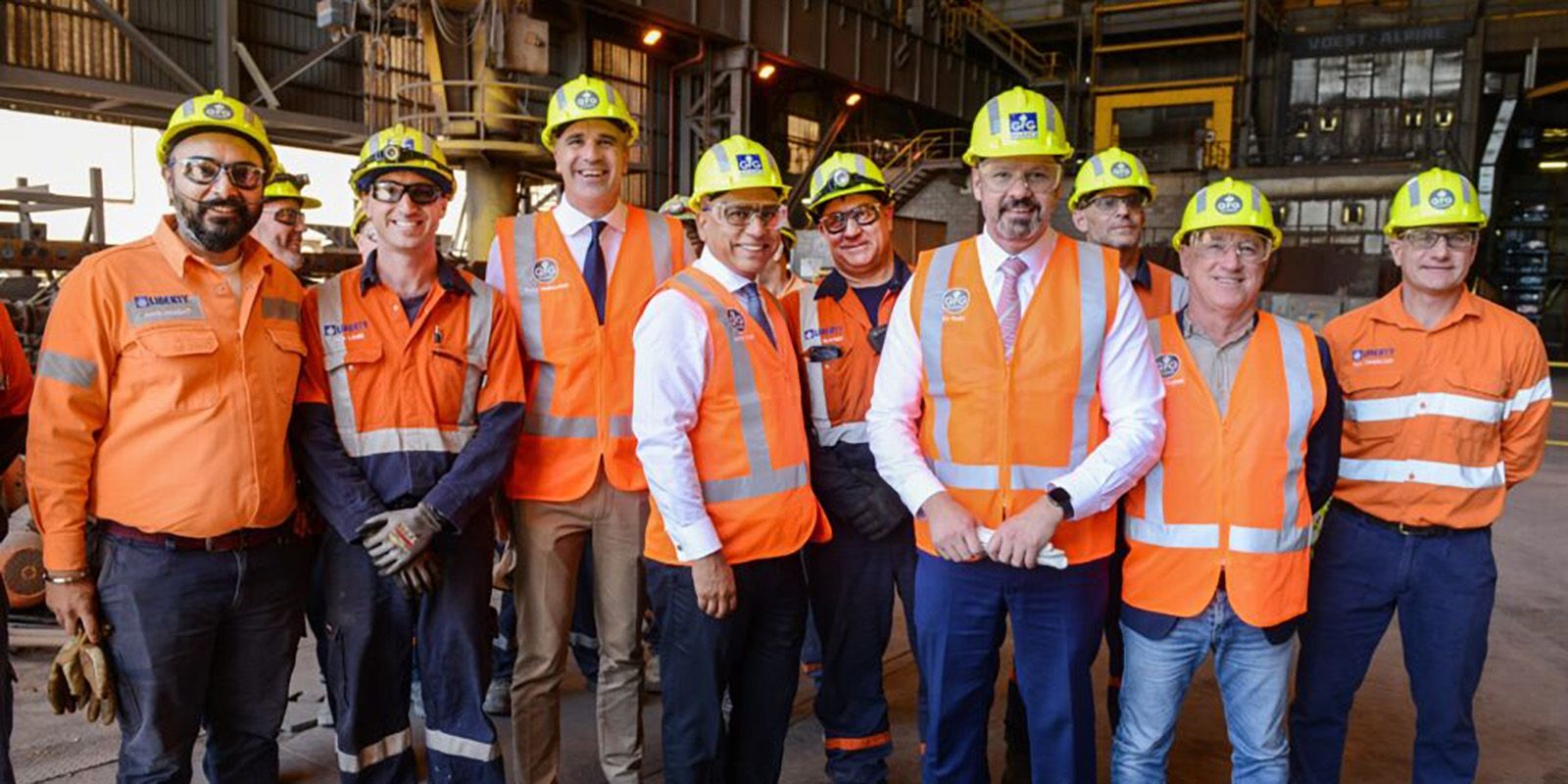 LIBERTY Steel announced the phase-out of coal-based steelmaking at Whyalla Works, Australia, by purchasing a Danieli Digimelter to melt scrap/DRI at lowest carbon-emission levels, competitively.
The selected 160-t Digimelter will guarantee the clean production of 1.5 Mtpy of liquid steel, raising the present production capacity from 1 Mtpy. Initially fed by domestic steel scrap and other Fe-bearing materials, Digimelter will allow LIBERTY Steel Whyalla a 90% reduction in direct CO2 emissions compared with traditional blast furnace production.
Digimelter comprises Q-One power feeder, Q-Melt suite of technological packages and continuous scrap-charge system.
Danieli-patented Q-One overcomes the limitations of the traditional power-feeding systems and yields, ensuring unparalleled advantages to both power-feeding and the furnace melting process. These are proven by the practical elimination of network disturbances and greater efficiency of the furnace operation. Hybrid by design, Q-One allows the direct use of renewable energy sources generated at the site.
The management of the melting process will be performed by Danieli Q-Melt fully dynamic, adaptive process control of working parameters for both electrical and chemical profiles. It allows the reduction of the process variability with notable benefits in terms of furnace utilization factors and efficiency.
The selected Digimelter is "Zero Bucket" type. It is an endless continuous-scrap charging and preheating system that provides optimal scrap charge, reducing energy consumption and minimizing the environmental footprint through better energy exploitation and consistent production rate improvement.
The new Digimelter is expected to start melting by the middle of 2025.
LIBERTY Steel has previously ordered two Danieli Digimelters, to be installed at the Ostrava steelworks in the Czech Republic –the first European plant moving for BF transition.
During the announcement ceremony at Whyalla, the executive chairman of LIBERTY Steel, Sanjeev Gupta, said:
"Today marks the beginning of a new era placing Whyalla at the heart of a global revolution in the steel industry, moving it from being the most polluting of all industries to among the cleanest and greenest.
"Through the steps we're taking to install state-of-the-art low-carbon iron and steelmaking technologies here in Whyalla we will not only support Australia's climate ambitions, but we will help to decarbonize steel supply chains globally.
"Whyalla has some of the best conditions to make low carbon iron and steel anywhere in the world and with our magnetite expansion plans, coupled with South Australia's endless resource for renewable energy and green hydrogen, the potential for Whyalla has no bounds.
"Whyalla is very proud of the role blast furnace production has played in the history and development of this incredible town and in supporting Australian infrastructure development, but its phasing out allows us to usher in a new era for sustainable iron and steel production that will take employment and prosperity here to new heights."
For more info:
Mike Knights
m.knights@danieli.it
+44 773 9981 361