News & events
In this section you will find all the latest news of the Danieli Group. Selecting the categories below, you can see News, Records, Start-ups, New Orders.
9 / 668
new orders
2023, 14th August
Meranti and Danieli cooperation for a new Green Steel plant in Thailand
Energiron DRI, Digimelter and QSP-DUE technologies for flexible, competitive hot-rolled coil production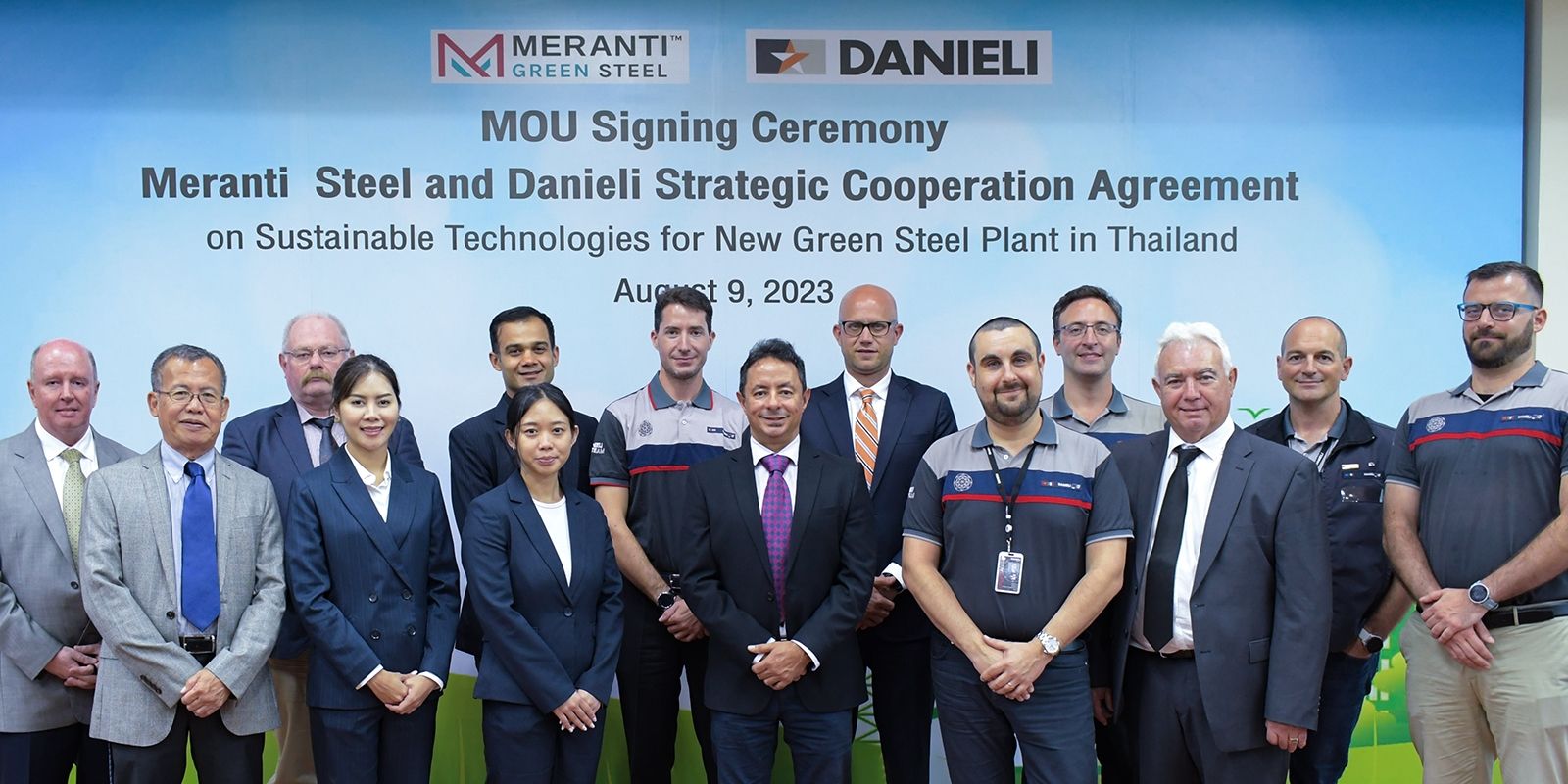 Meranti Green Steel, Singapore, made a significant step forward towards sustainability by announcing a new Green Steel project in Thailand. The cooperation agreement with Danieli aims to develop a modern DRI-based plant to produce Green Steel hot-rolled coils, making use of renewable energy solutions including solar and wind energy, and hydrogen.
Meranti's new green steel plant promises sustainable solutions. It will feature an Energiron direct reduction plant with technology jointly developed by Tenova and Danieli, ready for a transition to 90% hydrogen; a Danieli Digimelter melting unit featuring a Q-One power feeder capable of processing green energy; and a Danieli QSP-DUE thin-slab casting and rolling line for full flexibility in terms of strip width, thickness, and steel grades.
All this will guarantee the lowest energy requirements and direct carbon emissions.
Sebastian Langendorf, CEO of Meranti Green Steel, stated, "We are excited to work with the Danieli team on the technology and equipment for our new green steel plant in Thailand. Danieli is one of the world's leading suppliers for steelmaking, and we believe that the advanced Energiron DRI technology will play a critical role in decarbonizing steel supply chains. Danieli has a major workshop in Rayong, Thailand, which allows for local manufacturing. Meranti Green Steel and Danieli share a strong commitment to Thailand."
Giacomo Mareschi Danieli, CEO of Danieli, added, "We are glad and proud to be partners of Meranti for this challenging project. We are fully aligned with Meranti's vision and approach to be front-runners in the Green Steel transition, and we are sure that Danieli's cutting-edge technologies will allow Meranti to play a leading role in the Far East, flat-product market."
Meranti's new green steel plant will strengthen Thailand's domestic steel production and exemplifies the commitment of countries such as Singapore and Thailand to lead the sustainable transformation of the iron and steel industry.
For more info:
Sergio Galasso
s.galasso@danieli.it
+39 347 45 70 777