IRONMAKING AND STEELMAKING
Scrap shears
With their sturdy design and high compacting ability, our scrap shears are ideal for processing metal scrap, where high densification and productivity are required.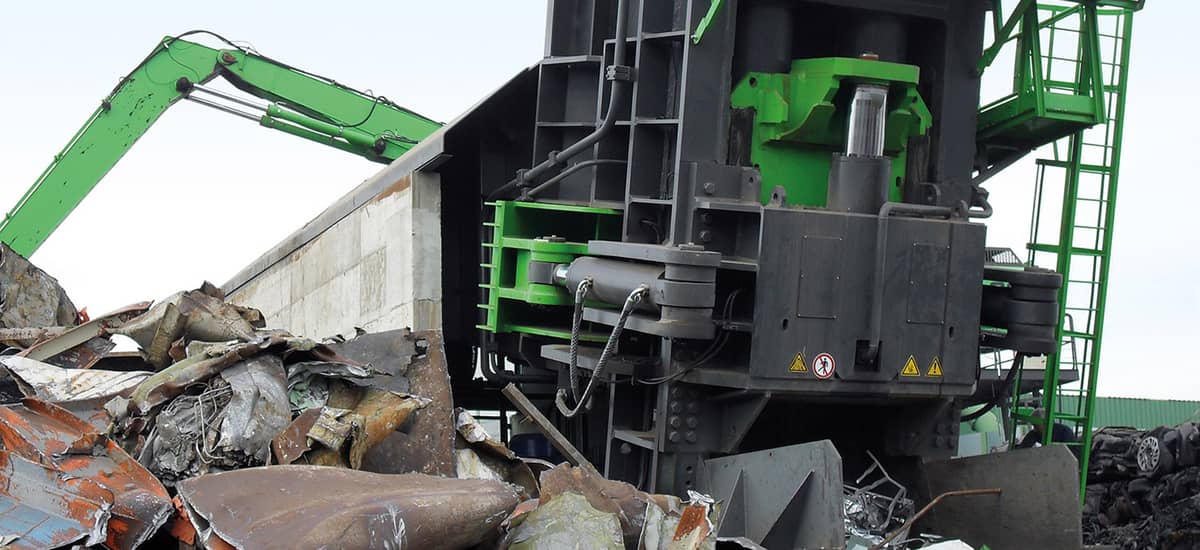 Over the last 40 years or more, Danieli Henschel hydraulic scrap shears have gained a worldwide reputation in the field of metal collection and recycling. Today, three major lines of hydraulic scrap shears (CIB, CIC and CIV) allow scrap metal processors to manage every type of requirement. These scrap shears are designed to cut scrap metal using a guillotine system powered by hydraulic energy.
Because of the different reducer kinematics in each range, Danieli Henschel machines can process heavy, bulky scrap metal just as easily as lightweight scrap metal. They also increase the density of the scrap metal collected while greatly reducing its size. This allows them to process dozens of tons per hour whatever the operating mode: automatic or manual.
High densification and accurate cut length guarantee a high-quality finished product.
From 600 to 960 tons of cutting force, and specifically designed to be transported and installed easily, our one-piece wing shears from the XPERT range can shear up to 16 t/h.
From 700 to 1250 tons of cutting force, specifically designed to be versatile for the processing of more or less lightweight scrap metal, the CIV line of shear-balers can shear up to 50 t/h.
From 800 to 1600 tons of cutting force, specifically designed for heavy-duty processing of heavy and bulky scrap metal, the CIB line of shear-balers can shear up to 98 t/h.
From 500 to 1100 tons of cutting force, and thanks to their continuous and fully automatic functioning, the CIC inclined shears from the DANIELI HENSCHEL range are particularly suited to treat scrap of great length, requiring high densification and production capacity.