AUTOMATION
QDRIVE MV
Medium Voltage Drives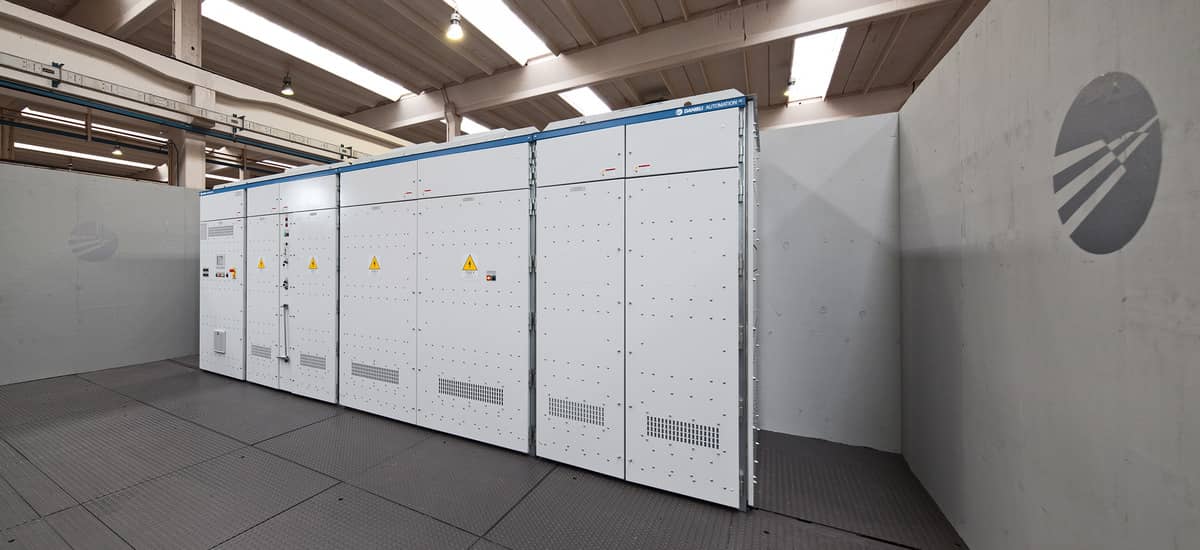 Danieli Automation MV Drives are the perfect choice as AC/DC converters & multi-drive DC link inverters arrangement. The system is designed aiming to reliable operations, with simplified maintenance due to the wheeled power modules for easy servicing, with state of the art control structure and user-friendly interface.
Danieli Automation MV drives are high performances water cooled vector controlled drives, in three level Neutral Point Clamped (NPC) topology. Active Front End (AFE) line fully regenerative converter allows optimal network impact. QDrives are designed for demanding metals rolling mill applications, with Field Oriented Control (FOC) for synchronous and induction motors, developed with focus on high flexibility, operability and maintenance. QDrive MV Drives meet the following requirements:
High dynamic performances
High power rating at low frequencies
Line power factor = almost 1.0 (AFE version)
Four-quadrant operation (AFE version)
The line side and motor-side converters use IGBT modules or IGCT disk power semiconductors, the converters ratings range from 4 MVA up to 20 MVA. Main applications are machines and plants in metal and in the process industry, as Fast Finishing Blocks, rolling mill stands, large coilers, fans and compressors. The control structure is based on a powerful, state-of-the-art Danieli Automation Process Automation Controller (DA-PAC), that communicates with power part (modulator boards) with Ethercat optical fiber hi-speed link to ensure control trouble-free operation in the worst EMI environment.The control unit handles the drive system and its auxiliary system, monitoring the transformer, the converter power part and the motor, for safe operation and troubleshooting.
HIGHLIGHTS

Ready-to-connect cabinet unit
Design focused on easy maintenance and quick power module replacement (wheeled power modules allow very fast substitution without any special tool or lifting device)
Optimum interaction with automation overriding control system
High degree of efficiency
Fully-digital vector closed-loop control, for synchronous and induction motors
High control accuracy and dynamic response
Extremely low line harmonics spectrum
Simple and fast commissioning
Remote Teleservice as option
Extremely reliable in operation and almost maintenance-free
Interchangeable modules, usable on both AFE or INVERTER unit
Long-life MV capacitor units