News & events
In this section you will find all the latest news of the Danieli Group. Selecting the categories below, you can see News, Records, Start-ups, New Orders.
13 / 45
new orders
2015, 23rd November
New contract for technical modernization of slab CCM into 12-strand billet CCM at EVRAZ West Siberian Metallurgical Plant
Danieli technology chosen to improve plant efficiency and product quality at lower production costs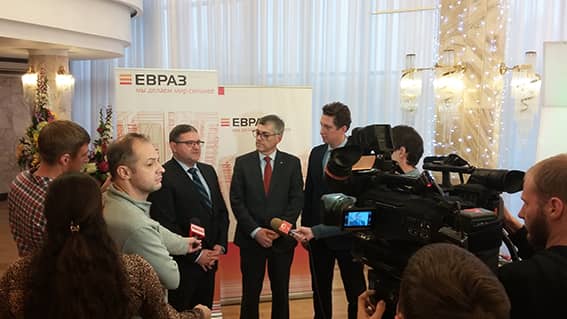 On October 22nd 2015, EVRAZ awarded DANIELI with a contract for the conversion of the existing two-strand slab continuous casting machine (CCM), located at EVRAZ ZSMK (Novokuznetsk, Russian Federation), into a 12-strand billet CCM. The project is part of a modernization process of over 4,5 billion rubles.
Technical modernization of slab CCM will provide the possibility for the enterprise to fully avoid casting to ingots, which will significantly increase production efficiency and will reduce production cost of commercial steel rolled product and improve its quality.
The new CCM will be able to use open stream casting method for the entire volume of steel cast, which will also allow reducing cost of production.
«Due to technical modernization of slab CCM we will have a brand new 12 strand continuous billet casting machine. Such units are not yet available anywhere in Russia, – pointed out Aleksey Ivanov, vice president of EVRAZ, manager of "Steel" Division. – Up-to-date equipment will ensure high casting speed – over 6 meters per minute. With that the production capacity of CCM will make around 2,4 million tons of continuously cast billet annually. Provided that revamping of the existing billet CCM is being completed at the Works these days, we will be able to produce up to 4,6 million tons of square section billet with the two machines in the future».
Design documentation of slab CCM technical modernization shall be developed until the end of year 2016. During 2017-2018 DANIELI will manufacture and supply equipment, and following that will assemble and adjust operation of all units. Completion of modernization is scheduled for 2018.

With this new order, EVRAZ confirms DANIELI FastCast and PowerMould™ technology as their choice for high productivity CCM of long products.