News & events
In this section you will find all the latest news of the Danieli Group. Selecting the categories below, you can see News, Records, Start-ups, New Orders.
43 / 90
new orders
2022, 12th July
LIBERTY Ostrava to rely on Danieli green technology for its transition towards carbon neutrality
Order for two Digimelter digital furnaces to replace ironmaking with electric steelmaking and reduce CO2 impact by 80%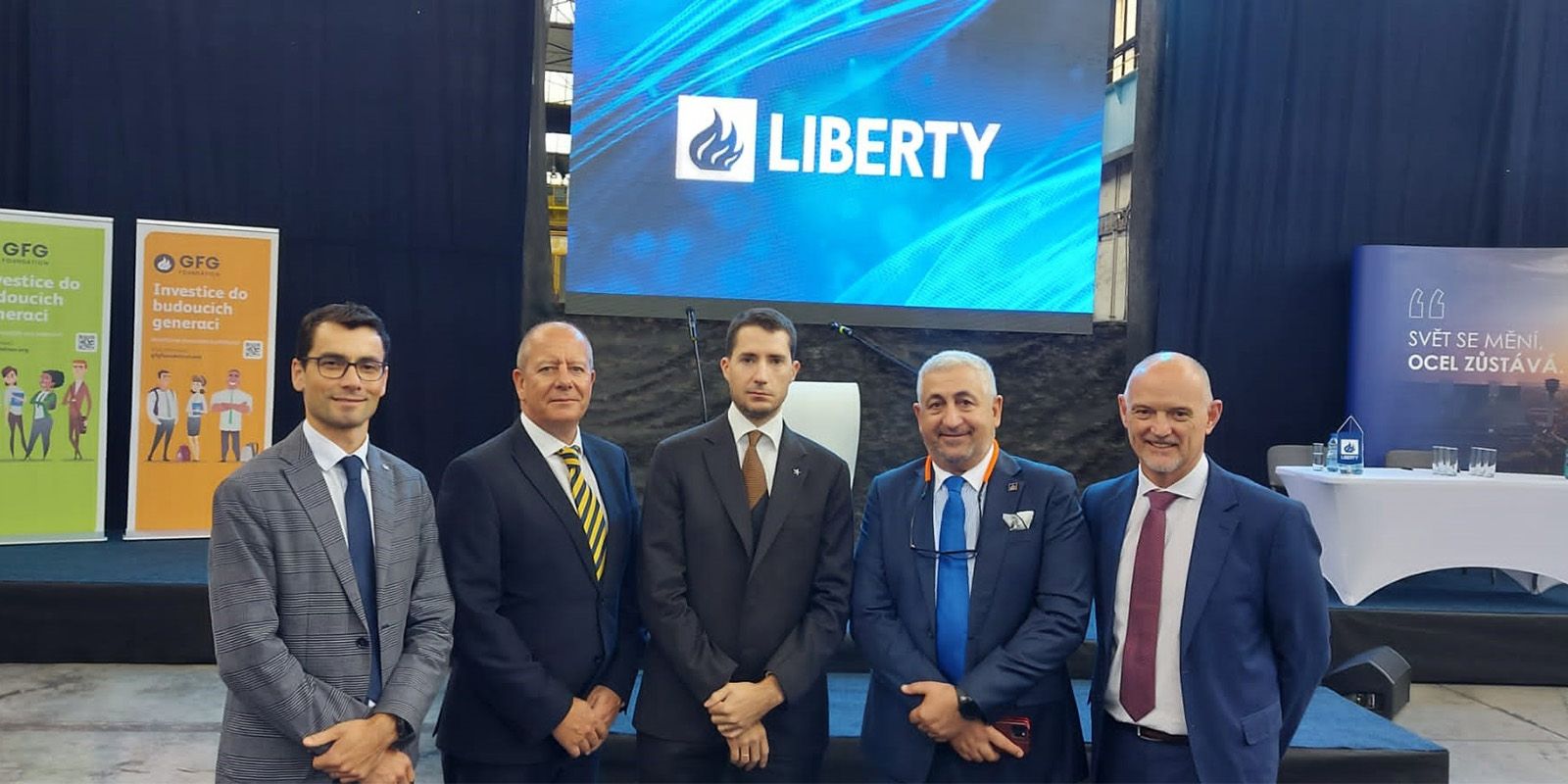 LIBERTY Steel Group has contracted Danieli to supply two Danieli Digimelter –digital melting units – that will reduce LIBERTY Ostrava's emissions by over 80% by 2027.
To be installed at the Ostrava steelworks in Czech Republic, and to start in 2025, the two Digimelters selected by LIBERTY Steel will have a combined capacity of 3.2 Mtpy.
In the initial phase of the project the two 200-t Digimelters will replace Ostrava's existing four tandem steelmaking furnaces (oxygen converters) and perform decarburization with flexible inputs of hot metal and scrap charges ranging from 80-20% to 60-40%.
Starting from 2027, thanks to an enhanced electrical network, the furnaces will be able to melt HBI, DRI and scrap mixes, and up to 100% scrap, by fully exploiting Digimelter benefits.
The patented Q-One power feeders that control arc current and voltage provide efficient and stable power delivery to the Digimelter units.
In addition to benchmark performances in terms of power-on and electrode consumption, Digimelter powered by Q-One also ensures an almost negligible impact on the power network.
Thanks to Q-One, Danieli Digimelter is hybrid by design and allows the direct use of renewable energies.
LIBERTY is the first steelmaker in Europe to begin its technology transition from ironmaking to electric steelmaking. This order follows the one received from Algoma Steel in Canada –the first steelmaker in the world switching from ironmaking to electric steelmaking– also selecting Danieli Digimelter technology.
Sanjeev Gupta, Executive Chairman of LIBERTY Steel Group said: "The contract we have signed today is a historic milestone for the Ostrava steelworks and a massive step forward towards our GREENSTEEL and carbon neutrality plans here in Ostrava and across Europe. This is the largest investment in Ostrava for a generation and the start of a major transformation across Europe as we move away from older, polluting production methods to the latest lower-carbon production technologies. This will not only make us a cleaner and more sustainable producer but also a more responsive and dynamic player in the market."
Mr. Gupta continued: "Our investment shows our long-term commitment to the workforce here at Ostrava, the local community and the future generations that will come to work in what will be a modern, clean steel plant. I'd like to thank the team at LIBERTY Ostrava for all the work that has gone into preparing for this huge investment."
Giacomo Mareschi Danieli, Chief Executive Officer of Danieli, said: "Danieli is delighted to have been selected by LIBERTY Ostrava as the technology provider for this prestigious project that represents a milestone in European steelmaking history, being the first major project in Europe that will replace carbon-based, blast furnace technology with the latest electric arc furnace-based, green steel technology. The two new, 200-tonne hybrid electric arc furnaces, known as Danieli Digimelter, will incorporate the latest design and technological packages in the field of electric arc furnace melting to ensure the lowest CO2 and NOx emissions, whilst also providing a significant improvement in liquid steel conversion costs, thereby improving the competitiveness of the LIBERTY Ostrava plant.
"Safety improvements shall also be derived through a suite of technological packages that automate tasks that have traditionally been carried out manually, hence removing operators away from the hazardous exposure to liquid steel.
"This contract is an excellent example that decarbonization does not mean a threat, but rather an opportunity for improvement. The new hybrid furnaces will be more efficient and produce high-quality steel at a lower cost, with significantly lower emissions. This is an investment for the future of LIBERTY Steel alongside the future of the planet.''
More information, including a cooperation agreement with ČEZ ESCO which is one of Europe's largest energy companies, is available from the LIBERTY's press release published within LIBERTY Steel Group website at https://libertysteelgroup.com/news/liberty-makes-historic-investment-in-ostravas-greensteel-transformation/
For more info:
Paolo Burin
p.burin@danieli.it
+39 0432 195 7819