News & events
In this section you will find all the latest news of the Danieli Group. Selecting the categories below, you can see News, Records, Start-ups, New Orders.
26 / 87
corporate information
2021, 21st September
Danieli and Pesmel in alliance to supply integrated material-flow solutions for metal plants
Automated material-handling systems to increase plant efficiency and capacity utilization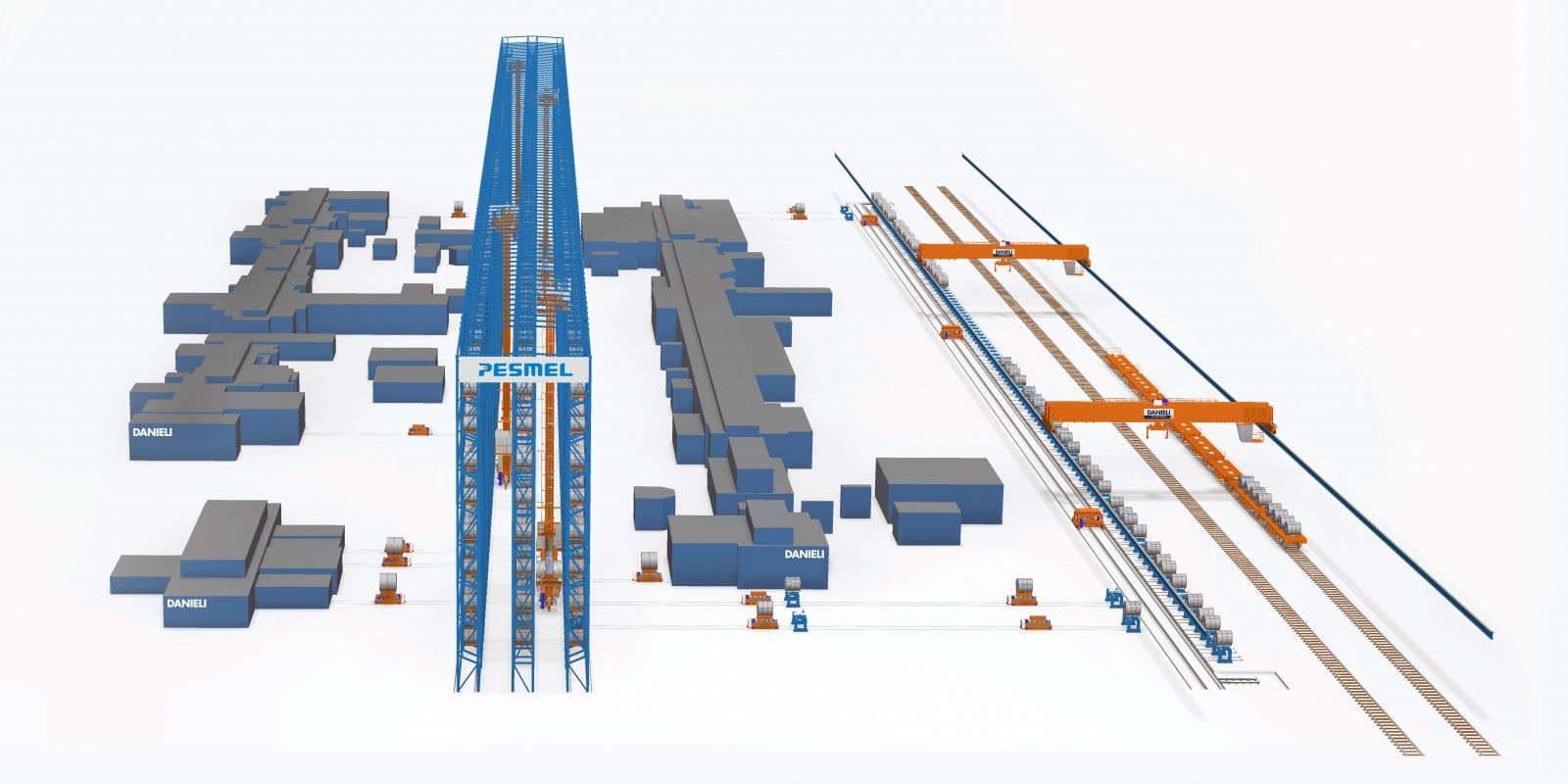 Danieli and Pesmel have been cooperating to innovate and implement ground-breaking solutions and technologies for logistics, material handling and warehousing at metal plants producing long and flat products.
The two companies have formed a strategic alliance to develop and supply integrated material-flow solutions, merging the Danieli knowledge of the metals processes and ability to manage large projects with the material-flow know-how of Pesmel.
Together, the companies continue delivering proven cold-rolled coil and wire-rod solutions. Also, they will introduce revolutionary solutions for handling and warehousing of various products, such as wirerod bundles, merchant bars, plates and coils, whether hot-rolled, cold-rolled or coated.
While both companies continue developing and promoting their core competences, the alliance focuses on seamless integration of mill processes with material-handling equipment, automating the warehouse functions and dispatch of ready goods and improving product data through digitalization for operating cost reduction.
Specifically, automated material-handling systems integrated to the production processes will increase plant efficiency and capacity utilization, with shortened lead times. The information flow will be controlled with real-time tracking and full traceability. With integrated solutions, the mill layout will be simplified and compacted, material flows optimized, and bottlenecks removed. Solutions also will reduce turnaround times in the logistics chain.
Benefits of material-flow integration reported in recent reference cases:
— 15% increase in sales due to shortened delivery times and improved order fulfillment;
— 10% increase in mill efficiency;
— 40% reduction of capital tied to products;
— 2/3 reduction of warehousing footprint;
— Zero orders lost or handling errors;
— Reduced power consumption by 0.1 kWh/handled ton;
— Shortened turnaround times; gate-to-gate in less than one hour;
— 90% reduction in personnel requirements;
— Zero accidents leading to sick leave and resulting in lost work time.

Pesmel is a leading provider of integrated material flow solutions for the steel, non-ferrous metal, pulp and paper, and tire industries globally. The company is a single source for all functions in automated handling, packing, sorting, storing and shipping. The scope of supply is integrated with the mill processes and resource planning with the help of an advanced warehouse management system.
For more info:
Lorenzo Bacchetti, Danieli Group
+39 345 0905535
Juha Suksi, Pesmel Corporation
+358 207 009 624