News & events
In this section you will find all the latest news of the Danieli Group. Selecting the categories below, you can see News, Records, Start-ups, New Orders.
5 / 102
new orders
2017, 24th November
New Danieli Quality Strip Production (QSP) plant at Hoa Phat, Vietnam
Flexible production of quality and commercial grades, with excellent geometrical and mechanical strip properties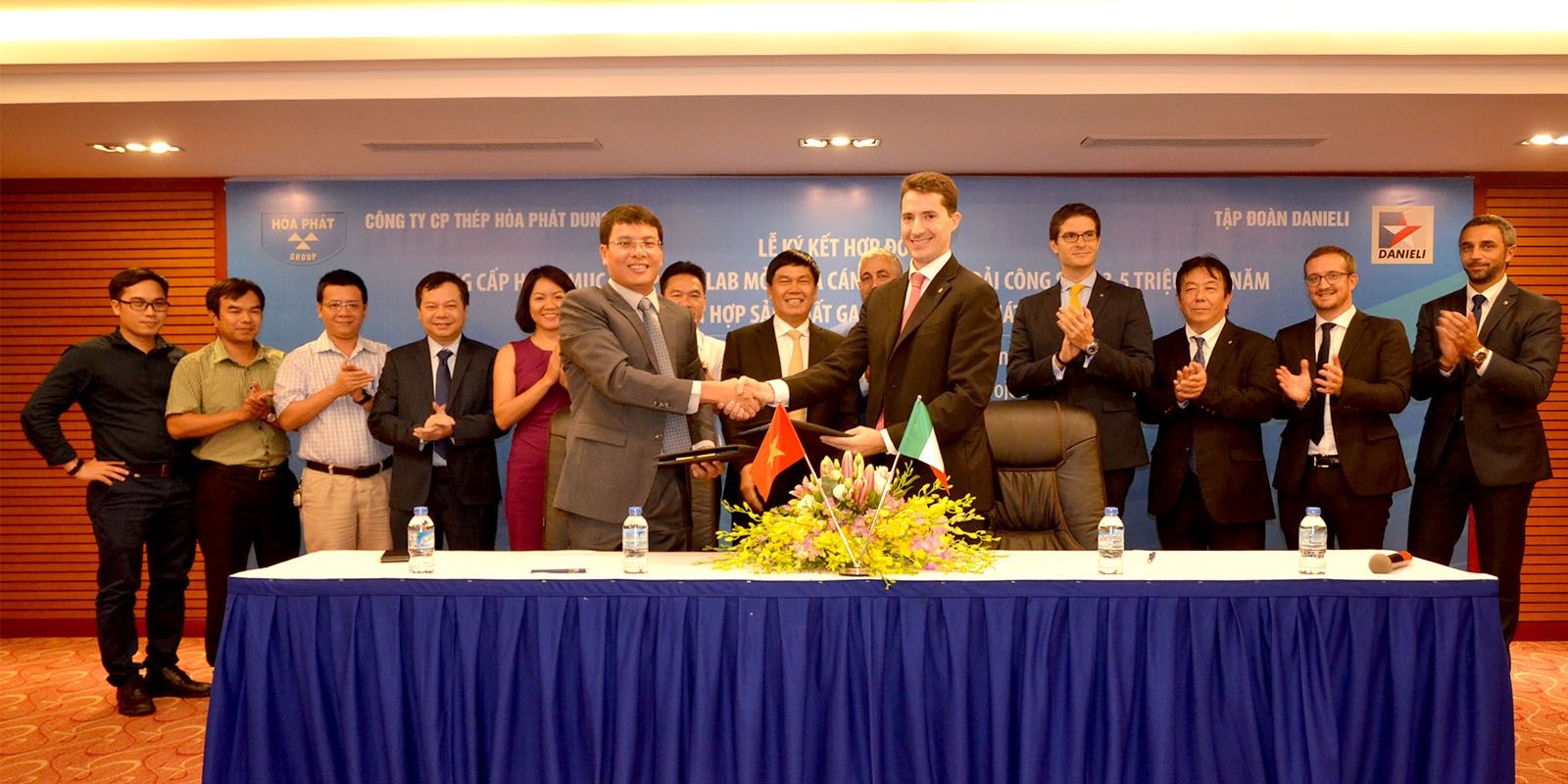 Hoa Phat Steel relies on Danieli to enter in the HRC sector, selecting Danieli QSP technology to be installed at Dung Quat, in Vietnam.
The plant will initially produce 3.5 Mtpy of HRC with strip thicknesses ranging from 1.5 to 12.0 mm and widths from 900 to 1,500 mm. The design foresees expanding production to 4.0 Mtpy by adding two segments to the slab caster and a downcoiler (Phase II).
Due to its configuration, QSP technology offers the possibility to produce both commercial and special steels, including API grades.
The two vertical-curved casters will produce 70- to 85-mm-thick slabs after dynamic soft reduction, covering the whole product mix with a single mould.
The Danieli Centro Combustion twin-strand shuttle furnace connects the casters to the mill.
The QSP mill features a 2+4 stand configuration with separation of high-reduction and finishing units, in order to perform the dual step rolling. The line is completed with a laminar cooling system, including power and normal units, pinch rolls, downcoilers and a coil handling system.
Danieli Automation will provide, complete electrical and automation package, including instrumentation and in-house-made Q-drives. The QSP control system will be based on the HI-PAC industrial platform.
Danieli Construction will perform the erection of the complete supplied technological equipment.
The QSP design is configured to allow future installation of a crop shear and an additional finishing mill stand F5, for further expansion of the product mix.
Plant startup is expected by 2019.
This new order follows the earlier orders from Hoa Phat Steel for the supply of blast furnaces, billet casters, long products rolling mills, cold products rolling mill and strip processing lines.
For more info
Alberto Perin
+39 0432 195 7969
a.perin@danieli.it