Nuove soluzioni per il trattamento di nastri in acciaio
New solutions
for the treatment
of steel strips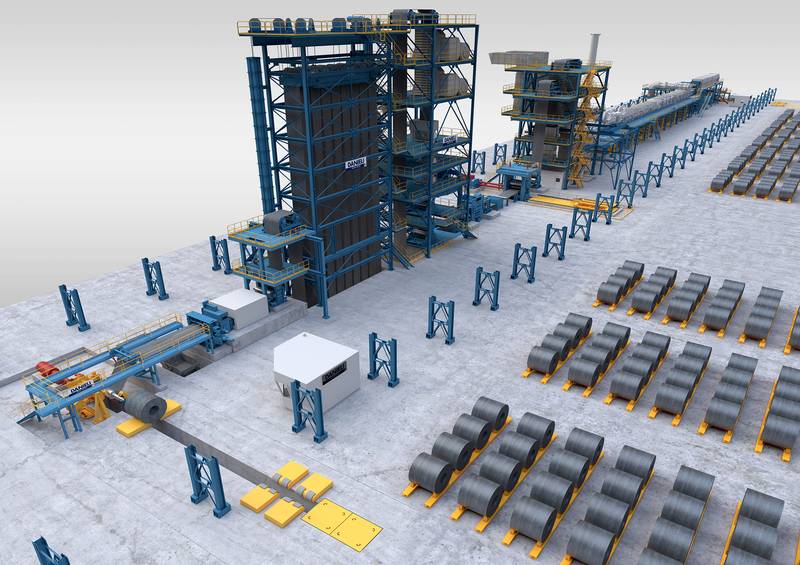 Progetto cofinanziato con il Fondo Europeo di Sviluppo Regionale del Programma Operativo Regionale del Friuli Venezia Giulia
PROGRAMMAZIONE POR FESR 2014-2020
Project co-funded with the European Regional Development Fund of the Regional Operational Program of Friuli Venezia Giulia
PLANNING POR FESR
2014-2020
Descrizione

/ Description

Il progetto di ricerca riguarda lo studio di processi alternativi nel campo dei trattamenti di decapaggio e rivestimento dei nastri d'acciaio.
Alle tecnologie esistenti Danieli intende abbinare o sostituire soluzioni innovative di trattamento superficiale, finora applicate in altri settori industriali, attraverso un'estesa attività di sperimentazione ed ottimizzazione.
The research project concerns the study of alternative processes in the field of treatments of pickling and coating of the steel strips.
At existing technologies, Danieli intends to combine or replace innovative solutions of surface treatment, so far applied in other industrial sectors, through an extensive activity of testing and optimization.
Obiettivo

/ Target

L'obiettivo del progetto di ricerca è quello di ottenere la diminuzione o l'eliminazione dei reflui e l'incremento sia della qualità del prodotto finito sia del grado di automazione del processo, a favore di un minor impatto ambientale e di migliori condizioni di sicurezza per gli operatori. Il fine ultimo è quello di proporre sul mercato impianti e processi maggiormente efficienti ed affidabili.
The objective of the research project is to obtain the reduction or elimination of waste and the increase of both the quality of finished product and the degree of automation of the process, in favor of a lower environmental impact and better safety conditions for operators. The ultimate goal is to offer to the market more efficient and reliable systems and processes.
Risultati

/ Results

I risultati attesi riguardano la validazione e la messa a punto di dispositivi e processi innovativi attraverso lo sviluppo di modelli di simulazione, la caratterizzazione dei rivestimenti utilizzati e la sperimentazione su prototipi in scala.
Al termine delle attività di ricerca, si avranno indicazioni sufficienti per la successiva fase di scaling-up industriale.
The expected results concern the validation and the tuning of innovative devices and processes through the development of simulation models, the characterization of the coatings used and the experimental activity on scale prototypes.
At the end of the research activities, there will be sufficient information for the next phase of industrial scaling-up.
Bando POR FESR 2014-2020.
Attività 1.3a. DGR n. 646/2016.
Pratica n. 23829/RS/2016
Call POR FESR 2014-2020.
Activity 1.3a. DGR n. 646/2016.
Practice no. 23829/RS/2016
Potenziale contributo concedibile:
449.308,30 euro (decreto n.
330/PROTUR dd. 07/02/2017)
Potential grantable contribution:
€ 449,308.30 (decree no.
330/PROTUR dated 07/02/2017)
Spesa complessiva
del progetto ammessa:
€ 1.007.080,85
Overall project
eligible expenditure:
€ 1.007.080,85
Bando POR FESR 2014-2020.
Attività 1.3a. DGR n. 646/2016.
Pratica n. 23829/RS/2016
Call POR FESR 2014-2020.
Activity 1.3a. DGR n. 646/2016.
Practice no. 23829/RS/2016
Potenziale contributo concedibile:
449.308,30 euro (decreto n.
330/PROTUR dd. 07/02/2017)
Potential grantable contribution:
€ 449,308.30 (decree no.
330/PROTUR dated 07/02/2017)
Spesa complessiva
del progetto ammessa:
€ 1.007.080,85
Overall project
eligible expenditure:
€ 1.007.080,85