NUOVO SISTEMA INTEGRATO PER
LA GESTIONE INTELLIGENTE E DINAMICA DELLA METALLURGIA SECONDARIA IN UN'ACCIAIERIA ELETTRICA
NEW INTEGRATED SYSTEM FOR INTELLIGENT AND DYNAMIC MANAGEMENT OF SECONDARY METALLURGY IN AN ELECTRICAL MELTSHOP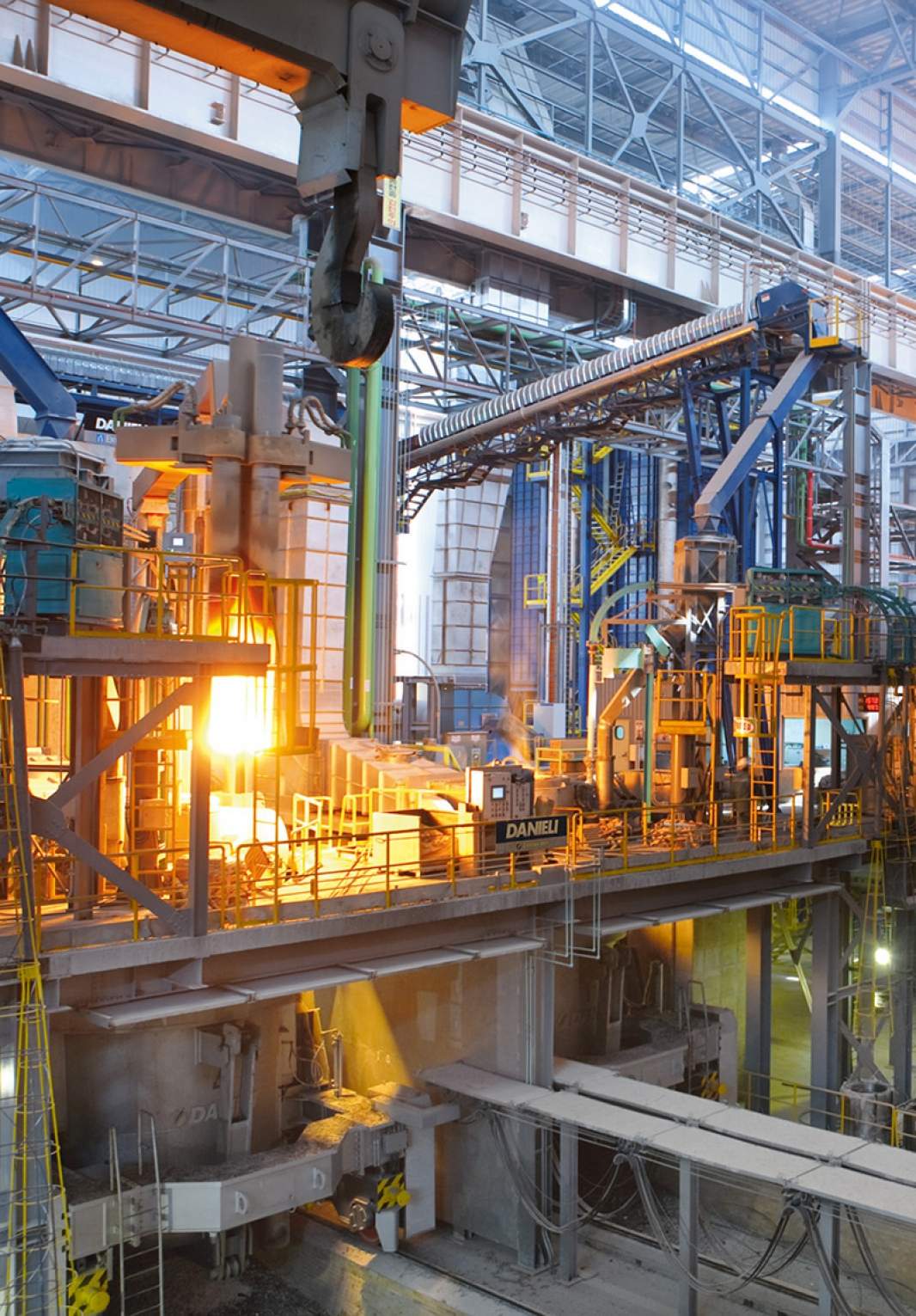 Progetto cofinanziato con il Fondo Europeo di Sviluppo Regionale del Programma Operativo Regionale del Friuli Venezia Giulia
PROGRAMMAZIONE POR FESR 2014-2020
Project co-funded with the European Regional Development Fund of the Regional Operational Program of Friuli Venezia Giulia
PLANNING POR FESR
2014-2020
Descrizione

/ Description

Il progetto di ricerca è incentrato sull'integrazione e ottimizzazione dei processi di "metallurgia secondaria" cioè dei trattamenti dell'acciaio liquido a valle del forno elettrico di un'acciaieria, al fine di massimizzare la qualità interna del prodotto finale (produzione senza difetti) per soddisfare al meglio le richieste di mercato.
The research project focuses on the integration and optimization of the "secondary metallurgy" processes, i.e. the treatment of the liquid steel downstream of a meltshop electric furnace, in order to maximize the internal quality of the final product (production without defects) to better meet market demands.
Obiettivo

/ Target

L'obiettivo del progetto di ricerca è quello di sviluppare pacchetti tecnologici ad elevata automazione, atti a integrarsi sulle diverse macchine afferenti alla metallurgia secondaria e a consentire un controllo dinamico in tempo reale lungo il percorso dell'acciaio liquido.
The objective of the research project is to develop highly automated technological packages that can be integrated into different machines related to secondary metallurgy and to allow real-time dynamic control of the liquid steel flow.
Risultati

/ Results

I risultati attesi riguardano la digitalizzazione, l'automazione spinta e l'integrazione di tutti i passaggi di metallurgia secondaria in un "unico processo intelligente" al fine di ottenere i seguenti vantaggi: riduzione dei tempi di trattamento, aumento della produttività degli impianti, miglioramento della qualità del prodotto, riduzione dei consumi energetici e dell'impatto ambientale.
The expected results derive from digitization, the high-level automation and the integration of all the secondary metallurgy phases in a "single intelligent process" in order to obtain the following advantages: reduction of treatment times, increase of plant productivity, improvement of product quality, reduction of energy consumption and environmental impact.
Bando POR FESR 2014-2020.
Attività 1.3a. DGR n. 1232/2017.
Pratica n. 38790/R&S/2017
Call POR FESR 2014-2020.
Activity 1.3a. DGR n. 1232/2017.
Practice no. 38790/R&S/2017
Potenziale contributo concedibile:
€ 505.761,98 (decreto n.
2011/PROTUR dd. 13/06/2018)
Potential grantable contribution:
€ 505.761,98 (decree no.
2011/PROTUR dated 13/06/2018)
Spesa complessiva
del progetto ammessa:
€ 1.123.915,51
Overall project
eligible expenditure:
€ 1.123.915,51
Bando POR FESR 2014-2020.
Attività 1.3a. DGR n. 1232/2017.
Pratica n. 38790/R&S/2017
Call POR FESR 2014-2020.
Activity 1.3a. DGR n. 1232/2017.
Practice no. 38790/R&S/2017
Potenziale contributo concedibile:
€ 505.761,98 (decreto n.
2011/PROTUR dd. 13/06/2018)
Potential grantable contribution:
€ 505.761,98 (decree no.
2011/PROTUR dated 13/06/2018)
Spesa complessiva
del progetto ammessa:
€ 1.123.915,51
Overall project
eligible expenditure:
€ 1.123.915,51