IMPIANTO DI COLAMINAZIONE ASSISTITO DA ALGORITMI DI INTELLIGENZA ARTIFICIALE A BASSE EMISSIONI PER ACCIAI DI ALTA QUALITÀ
CONTINUOUS CAST-ROLLING PLANT ASSISTED BY ARTIFICIAL INTELLIGENCE ALGORITMS WITH LOW EMISSIONS FOR HIGH QUALITY STEEL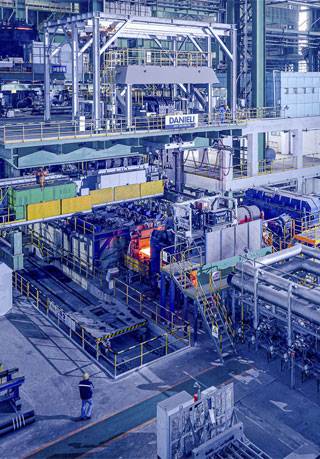 Progetto cofinanziato con il Fondo Europeo di Sviluppo Regionale del Programma Operativo Regionale del Friuli Venezia Giulia
PROGRAMMAZIONE PR FESR 2021-2027
Project co-funded with the European Regional Development Fund of the Regional Operational Program of Friuli Venezia Giulia
PLANNING PR FESR 2021-2027
Descrizione

/ Description

Il progetto di ricerca ha lo scopo di introdurre notevoli miglioramenti in un impianto di colata e laminazione in continuo per la produzione di acciai alto-resistenziali per il mercato automotive, attraverso un procedimento produttivo innovativo, ottimizzato, sicuro e a minimo impatto ambientale in termini di emissioni rispetto ai processi ad oggi in uso.
The research project aims to introduce significant improvements in a continuous cast-rolling plant for the production of high-strength steels for the automotive market, through an innovative, optimized, safe production process with minimal environmental impact in terms of emissions compared to currently in use.
Obiettivo

/ Target

L'obiettivo è quello di aumentare la flessibilità di una produzione smart, in termini di riduzione dei costi di produzione, miglioramento della qualità di prodotto, riduzione dell'uso di energia, a partire dai dati in tempo reale generati dai sensori intelligenti a bordo della macchina di colata continua.
The goal is to increase the flexibility of a smart production, in terms of reducing production costs, improving product quality, reducing energy use, starting from real-time data generated by on-board intelligent sensors of the continuous casting machine.
Risultati

/ Results

I risultati attesi riguardano la creazione di un nuovo standard produttivo, in termini tecnologici e impiantistici, per la produzione di acciai speciali, nel caso specifico degli acciai alto resistenziali per automotive, verso livelli prestazionali (produttività, qualità di prodotto) e di sostenibilità (ambientale, energetica, gestionale) totalmente compatibili con le più stringenti aspettative proprie della transizione ecologica, digitale ed energetica.
The expected results concern the creation of a new production standard, in terms of technology and plant engineering, for the production of special steels, in the specific case of high-strength steels for the automotive sector, towards levels of performance (productivity, product quality) and sustainability (environmental , energy, management) totally compatible with the most stringent expectations of the ecological, digital and energy transition.
Anticipazione PR FESR 2021-2027
Bando DGR n. 2026/2021
Pratica n. 2022/161/1
Anticipation PR FESR 2021-2027
Call DGR n. 2026/2021
Practice no. 2022/161/1
Potenziale contributo concedibile:
€ 140.710,00 (decreto n.
3821 dd. 01/02/2023)
Potential grantable contribution:
€ 140,710.00 (decree no.
3821 dated 01/02/2023)
Spesa complessiva
del progetto ammessa:
€ 563.340,00
Overall project
eligible expenditure:
€ 563.340,00
Anticipazione PR FESR 2021-2027
Bando DGR n. 2026/2021
Pratica n. 2022/161/1
Anticipation PR FESR 2021-2027
Call DGR n. 2026/2021
Practice no. 2022/161/1
Potenziale contributo concedibile:
€ 140.710,00 (decreto n.
3821 dd. 01/02/2023)
Potential grantable contribution:
€ 140,710.00 (decree no.
3821 dated 01/02/2023)
Spesa complessiva
del progetto ammessa:
€ 563.340,00
Overall project
eligible expenditure:
€ 563.340,00