events
fairs
archive
AISTECH 2019
06th - 09th May 2019 | Pittsburgh, USA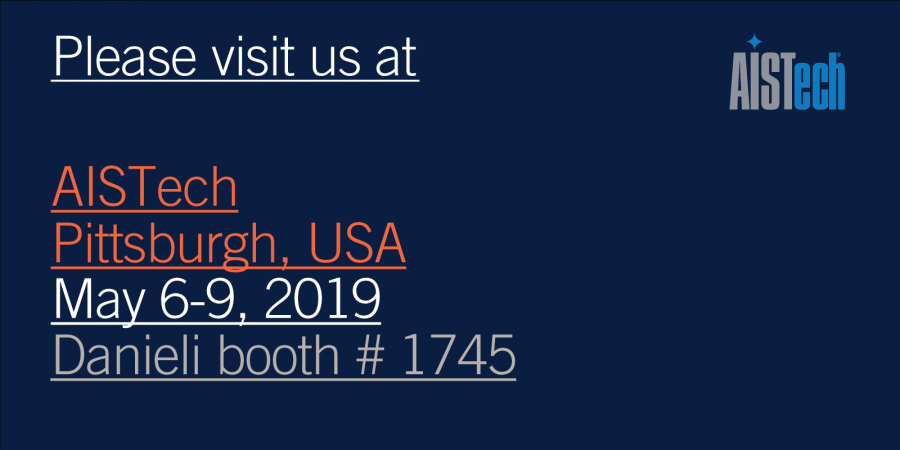 This event will feature technologies from all over the world that help steel producers to compete more effectively in today's global market by providing perspective on the technology and engineering expertise necessary to power a sustainable steel industry.
Speakers
open panel
close panel
Alberto Voltolina
/ Manager, Direct Sales, Mexico
The most advanced Minimill in the Americas for SBQ products is now fully in operation in Tlaxcala (Mexico)
Marco Sattolo
/ Vice President, Key Account Management
Mi.Da.: Latest developments in Endless Casting and Rolling of long products
Razza Paolo
/ Technical Sales Manager, Steelmaking
1° Q-Melt at Kroman Çelik EAF: performance results during one year of operation
2° Pyrophoric dust formation during vacuum degassing: uncovering the determining factors
Luigi Morsut & Marco Sattolo
/ Executive Vice President, Electric Steelmaking and Long Product Casters/ Vice President, Key Account
Tokyo Steel CCM4: A New Danieli Fast Cast Technology
Stefan Berger
/ Executive Vice President Rolling Technologies
DUE - The successful start-up of the first Danieli Universal Endless plant/ QSP - The most advanced thin slab technology
Kremm Jay
/ Executive Sales Manager, Danieli Corporation
1° Steel Dynamics' new continuous coil coating line for steel strip
2° Revamping of GL#4 at Hoa Sen Phú Mỹ Plant (Vietnam)
Raffaele Treu
/ Executive Manager, Sales North America, Danieli Taranis
Robotic applications for safety improvements in steelmaking production area
Enrico Plazzogna
/ Executive Vice President Sales & Marketing Dept. of Danieli Automation
1° Modernization of Continuous Casting Machine in the Era of Intelligent Manufacturing
2° Successful Use Case Applications of Artificial Intelligence in the Steel Industry
Paul Slater
/ Manager, Flat Products, Danieli Taranis LLC
Upgrading a large process line without impacting production
Lorenzo Bacchetti
/ Technical Manager, Sales Cranes Automation and Automatic Yards
Crane Remote Control/ Automatic cranes in to the process, reducing bottlenecks by empowering logistics
Ashton Hertrich Giraldo
/ Engineer, Sales
Energiron DR Technology - The way to produce higher steel grades by retrofitting existing Syngas-production plants
Nicola Pascolo
/ Vice President, Danieli Centro Maskin
Peeling line/ Drawing line (Chain Track)
Marco Peter Cudicio & Antonio Della Gaspera
/ Vice President, Green Technology & Systems/ Senior Process Engineer, Auxiliary Plants
New developments on Pressure Drops' reduction of the APC for EAF to decrease the OpEx
Gabriele Paulon
/ Product Manager, Electric Steelmaking and Long Product Casters
Latest design solutions for Danieli high quality conventional slab caster at voestalpine Stahl, Linz
Fabrizio Pere
/ Chief Executive Officer, Danieli Centro Combustion
Advanced batch and continuous furnaces for bar and wirerod coil treatment
General topics
Plants and processes: Minimill and Mi.Da., DUE® and QSP, Energiron DR Technology, Automatic EAF, Vacuum degassing, Fast cast technology, High speed casting and rolling mill for long products, coil coating lines, peeling lines, drawing lines.


Automation: Automatic cranes, CCM automatization, Robotic application, Artificial intelligence, Automation systems upgrading, spindle revampings.